Welcome to St Mark CYO
For the 2019-2020 season the registration fees are listed below:
Soccer Registration fee $120 - includes jersey, shorts and socks Click here for details.
Volleyball Registration fee $120 - includes jersey Click here for details.
Please click on the link to see Age Division Chart to see what division your child will play in. The registration system will also automatically put you in the right division once you enter in the child's date of birth.
**Returning Soccer/Volleyball Players** St. Mark has a NEW Returning player policy. St. Mark CYO fall registration begins on July 21st for all registrants. If you are a returning player and want to be on the same team as last season, you have the first two weeks of registration to secure your spot on the same team you played for the prior year. The two week returning player sign up will end on Sunday August 5th. Don't hesitate and be late. Sign up in your two week time frame.
**Game Day Entrance Fees** For all games at all locations, there is an entrance fee of:
Adults (ages 18+) = $2
Seniors = $1
Children (ages 17 and under) = $1
To register you will click on the sports pilot link below:
Login to your existing account or create a new account if you are new to St. Mark CYO sports. Sign up your player. **please make sure you add a jersey number or any other info. (i.e. requested coach) into the notes section.
Sports Pilot Link to Register: https://isis.sportspilot.com/register/family/default.asp?asoid=106361
Soccer Camp 8/10/2019, 8/17/2019: Click here for details.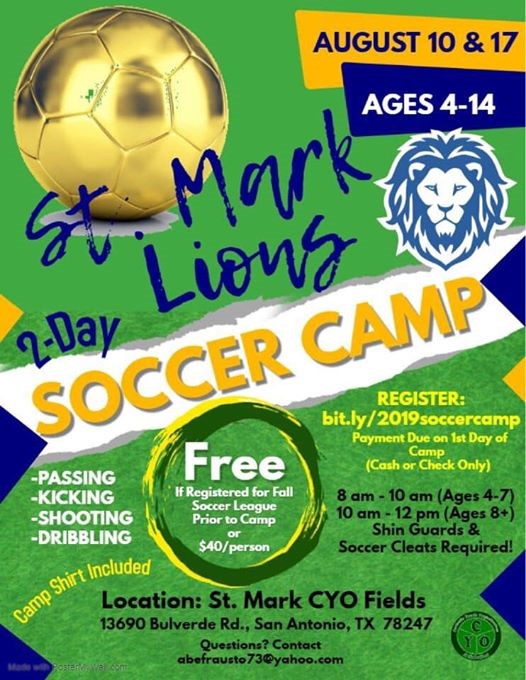 Volleyball Camp 8/17/2019: Click here for details.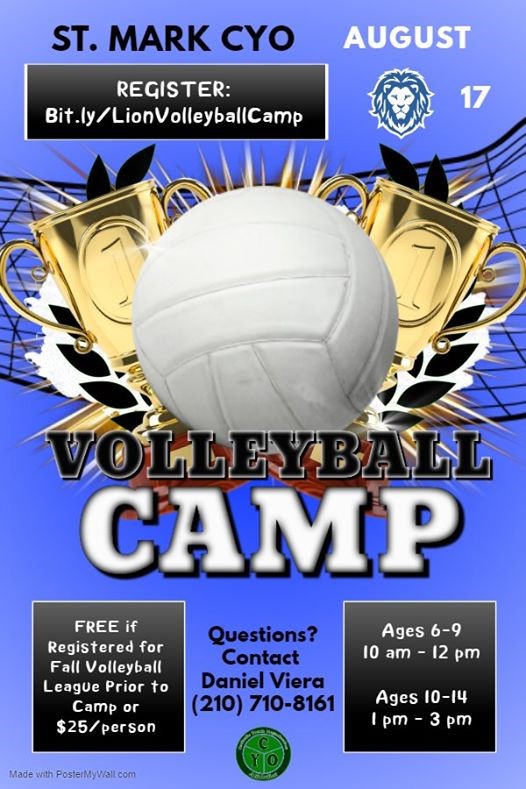 For general information or questions (including registration info), please contact: